About the acetylene sensor...
The technology behind the sensor was created by Dr. Abdul-Majeed and initial testing completed at The University of Toledo Department of Chemical Engineering.

Upon proof of it's functionality, the technology was licensed by Jack W. Harley of Acense LLC.

Patent is pending on this technology.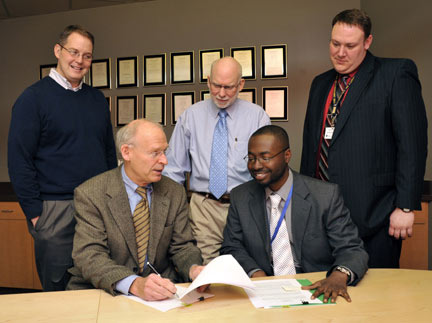 Jack Harley of Acense LLC signing licensing agreement
Acense LLC is seeking research partners to determine the real world, long term performance and utility of the sensor.

Acense LLC is also seeking investors who may be interested in participating in funding the development of the sensor technology.
Who's Who...
Dr. Abdul-Majeed Azad is a Professor in the Department of Chemical Engineering at The University of Toledo and the inventor of the technology behind the Acense acetylene sensor. His areas of current research are: Functional Nanoceramics, Ceramic Nanofibers, Nanometals, Fuel Reforming Catalysts and Desulfurizers, Greenhouse Gas Mitigation and Smart Gas Sensors. He is the recipient of the "NASA TechBrief Nano50 Award" in 2007and The University of Toledo's "Outstanding Faculty Researcher Award" in 2009. His "Greenhouse Gas Guzzlers – G3" concept was among the finalists in the "Global Venture Challenge" at the Oak Ridge National Laboratory in 2009.

Jack W. Harley

founded

J.W. Harley Inc. in

1979

, fulfilling his vision of providing electric substation products, services and improvements to the electric power industry. In

1999

, J.W. Harley Inc. was acquired by the General Electric Company. As part of GE Power Generation Services, it was known as GE Harley. In

2007

, Jack Harley and Frank Ricard, Manager of Engineering and Quality at GE Harley, took ownership of the High Voltage Circuit Breaker and Compressor segments of the business, and named the new company FirstPower Group LLC.